When you gently touch the right note, divinity descends! Everything that emanates from it is a miracle. 
Welcome to the world of miracle, Welcome to DPflutes!
C Natural Medium (SAFED-1) 19 Inch (48.26 CM ) Professional Bamboo Flute
C Natural Medium (19 Inch) Bamboo Flute Specifications C Natural Medium (Safed-1) Professional Bamboo Flute
E Natural Bass (SAFED-3) 30 Inch (76.2 Cm ) Professional Bamboo Flute
Specifications of E Natural Bass (Safed-3) Indian Classical Bamboo Flute E Natural Bass (Safed-3) professional bamboo
Yesterday I have received E middle flute..It is very easy to hold, not too small size ..I get da to pa distance comfortable to play..tonal quality very nice .. bamboo quality looks very mature..high tune is easily playable..
swgwmsar basumatary
2022-07-19
I get Nice experience in the Dp flute workshops
I have gone to the workstation and had seen him working so relentlessly and with so much dedication. Had fallen in love with flutes and music so much and DP flutes test with the testimony of quality and class and compromise none….. Great place, great time, best business
Fantastic
Dinesh Poudyal
2022-03-08
Very good flute Sound quality is also very very good
Very beautiful in looks and sound . Awesome .. A devine instrument is made from simple mature bamboo by beloved Dinesh ji
Santosh kumar Bera
2021-10-31
Om Prakash Singh
2021-10-28
We make flutes and touch your hearts
These sounds are not remote things. They are very much here, right here around you, waiting for a gentle stroke from you. DPflutes can make you recognize them. Befriend us and dance with them. Each stroke shall come out live; each note shall nurture your soul. The dance and the dancer integrate! They devise a brand new world of joy.
Right note at the right place!
Your search is perhaps over. You have landed at the right avenue. With its perfect, professionally trained, and musically sensitive human resource, DPflutes is ever ready to serve the interest of your soul. We build on credibility, our tradition of quality, and the blessings we receive from thousands of customers from across the globe. Be it any production that involves a flute, the sound engineered by our experienced hands stands out! Tunes from our bansuris have a recognizable distinction and extraordinary precision. And now, we belong to your universe of sound! We are pleased to welcome you.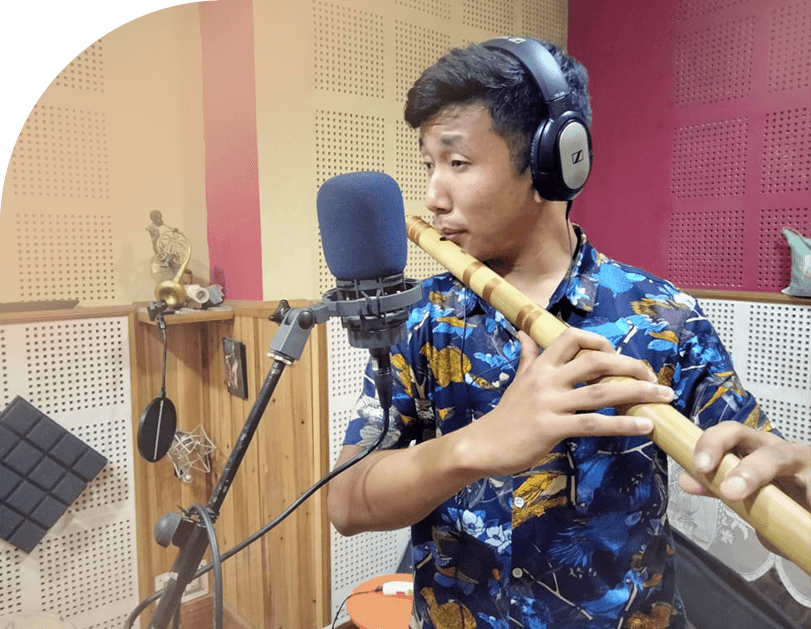 "Whoever gets involved in this field becomes spiritual because the music itself is purely spiritual. The music is a prayer, a rare kind of prayer. Music is created by the Supreme entity ('Brahma') so that we can get an understanding or a view ('Darshan') of that entity".

- Padma Vibhushan Pt Hariprasad Chaurasia
What our customers say about DPflutes!
Vrindaban Gurukul, Mumbai
Playing DPflutes gives me an experience of a different level. Dinesh Bhai, being a student of Vrindavan Gurukul knows the nuts and bolts of Indian Classical Bansuri and puts his experience and whole-hearted efforts to make DPflutes a world-class brand. A man of pleasant behavior and conduct, Dinesh bhai is one of the fantastic flute makers in our country. Apart from being a good flute maker, he is also a wonderful flautist! I wish him all the best and huge success.
Dinesh is one of those dedicated flute makers in our country whose flutes are not only suitable for beginners but also for a professional flautist. I wish him all the best.
The flute has a fantastic international level glossy finish. The quality of the flute, the sound, the tone, and the bamboo used, everything is of A grade. The second thing I appreciate is his attitude of delivering satisfaction to his customers with his unique way of interacting with them throughout the deal.
What YouTube says about us ?
Follow Us on Social Media
A Natural Bass (SAFED-6) 23 Inch (58.42 Cm ) Professional Bamboo Flute
Specifications of A Natural Bass (Safed-6) Indian Classical Bamboo Flute A Natural Bass (Safed-6) professional